On the First day of the Second month, I had a very POWERFUL DREAM! In this dream, a lady came to me, she looked like an angel! She was very bright and dressed in white! She spoke to me that it is time to FLY! We got on an airplane that was about to take off and it flew at the speed of what seemed like a space ship! As the plane broke into the clouds, I suddenly awakened!
Immediately, I heard the Spirit of God say that many have been waiting on the Lord in fasting and praying even at the beginning of this new year. Many have been calling for the release of long awaited promises and God has heard our prayers! This month of February shall be a month of massive acceleration and sudden release of answers to prayers!
In the same way if a person was walking to a location they would take a much longer time to reach their location but if they were flying in an airplane they would arrive a lot quicker. The Spirit of God says that February is a month of SPEED! The unusual delay many have experienced in the last season shall come to an end THIS MONTH! It shall be a month of Isaiah 40:31! As we have waited on the Lord, GOD shall renew our strength! We shall SOAR on wings as Eagles in the Second Month in Jesus' name!
A second wind of supernatural strength shall be released in the second month as we step into our season of REAPING, REPAYMENT, REST, RENEWAL, REFRESHING AND RAPID RESTORATION in Jesus name! Where there had been delay in the manifestation of answers to prayers there shall be speedy manifestation of sudden answers to prayers in Jesus name! Not only will time be restored as we SOAR but EVERYTHING the enemy stole in the last season shall NOW be restored to us DOUBLE in Jesus' name!!!
WE SHALL TAKE BACK WHAT THE ENEMY HAD STOLEN!
As the Father continued to speak to me about the Restoration in store for His people this month, He reminded me of a dream I had on the Eve of the first day of the year 2023. I was praying and asking the Father for a specific word for the body of Christ for 2023! I went to sleep briefly before I had to go preach at an event and while asleep I had a POWERFUL DREAM! In this dream I was in the neighborhood that I grew up in and suddenly went into this house. This house belonged to a well known witch doctor and I saw a television that he had stolen from me. I took it forcefully, walked out of the house and woke up immediately from the dream!
Immediately I woke up the Father spoke to me that 2023 shall be a year of MASSIVE RESTORATION and BREAKTHROUGH for His people! I heard the Spirit of God say this is the year where Isaiah 45 shall come to pass in our lives! God shall break in pieces the gates of brass that have hindered the release of long awaited promises in our lives. The limitations that the enemy has also tried to establish against the church to attempt to hinder the mighty move of His Spirit upon the earth, those limitations shall be destroyed in Jesus' name!
The Apostle Paul declares in 1st Corinthians 16:9 that a great and effectual door is opened unto me and there are many adversaries. I hear the Spirit of God say that as we move into the second month, it shall be an Isaiah 22:22 month, it shall be a month of open doors, open heavens and there shall be a restoration of blessings that have been held up by the enemy in Jesus' name!!! But I hear the Spirit of God say that we must pray against every adversarial force to shut the doors that God has already opened to us! Every tactic of the enemy against our open doors shall be destroyed in Jesus' name!
WE SHALL SOAR INTO DOUBLE BREAKTHROUGH!
On the first day of the second month, the Father said to me, "say to my people that they shall receive two times EVERYTHING the enemy had stolen!" He then reminded me of a recurring dream I had for several months where a lot of people would be gathered in a room and thieves would attempt to break in! But in each of these dreams the thief would be caught and forced to release what was stolen!
I heard the Spirit of God say that the second month shall be the month of Double RESTORATION! Isaiah 61:7 declares that instead of shame we shall have double and instead of confusion we shall rejoice in our portion, therefore in our land we shall possess the double and everlasting joy shall be ours! I hear the Spirit of God say that "The thief has been caught!" He must release to God's people DOUBLE Everything that was stolen in Jesus' name!!!
POWER DECLARATIONS TO ACTIVATE ACCELERATION INTO BREAKTHROUGH!
As we step into this Second Month! I prophesy that SPEED is our portion in Jesus name! I prophesy a speedy reversal of every demonic decree by the enemy against the church, our families and our lives in Jesus' name! I decree a SPEEDY Retrieval of Everything the enemy stole in the last season in Jesus' name! I declare a speedy RESTORATION of time and long awaited promises shall now manifest SUDDENLY in Jesus' name!!! I declare that instead of shame we shall now receive DOUBLE BREAKTHROUGH in Jesus name!!! There shall be NO MORE DELAY! The BREAKER, the Almighty God goes before us this month and I prophesy that instead of Delay, we shall have DOUBLE BREAKTHROUGH in Jesus' mighty name!
DOUBLE FAVOR, DOUBLE FINANCE, DOUBLE PROTECTION, DOUBLE PROVISION, DOUBLE RESTORATION IS OUR PORTION IN JESUS' NAME! In this Month of DOUBLE! We shall SOAR INTO DOUBLE BREAKTHROUGH IN JESUS' NAME!!!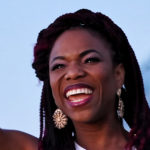 Agnes Ebedi
Agnes Ebedi is a woman of God with a strong prophetic anointing. Her vision is to see people across the globe encounter the person, presence and power of God.