YOU SHALL BIRTH BREAKTHROUGH AT CHRISTMAS! #propheticword
💻 Get your free devotional at my website below:
💥 Breakthrough Coaching:
http://bit.ly/3oBgTQL
📚 "21 Declarations to Unlocking Your MEGA BREAKTHROUGH" ebook
http://bit.ly/36x8RSQ
🔔 Subscribe here: http://bit.ly/2Mntmut
📧 Sign up for my Newsletter:
http://bit.ly/36yyGSx
🙏🏾 Partner with me: http://bit.ly/39z9A86
🔆 Connect with me:
🌿 Website: https://www.agnesebedi.com
🌿 Facebook: http://bit.ly/3cu8UTp
🌿 Twitter: https://bit.ly/3pCYlkI
🌿 Instagram: https://bit.ly/36zhOet
🌿 Pinterest: http://bit.ly/3ajoDBY
#agnesebedi #breakthrough #prophecy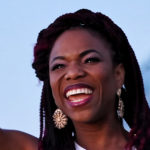 Agnes Ebedi
Agnes Ebedi is a woman of God with a strong prophetic anointing. Her vision is to see people across the globe encounter the person, presence and power of God.