Very recently, while worshipping I was suddenly taken into a vision. In this vision, I saw the Father with His arms stretched out and the gaze in His eyes was full of His loving kindness. Then He said this to me about you, "Agnes, say to my people, that I am about to exceed their wildest expectations!" He said to me that in the same way that He came to Solomon in 2nd Chronicles 1 and gave Him more than He asked for, He released to Him wisdom, wealth, riches and honor, I hear the Father say that the weight of the Blessing that is about to be released upon your life shall be extremely, extraordinarily more than you could ever imagine!
He shall give you the Nations
I heard the Father say that He is accelerating and rapidly releasing to the earth a sudden shift into a season of many answered prayers. Just like He made Abraham, possessor of Heaven and Earth, Genesis 14:19, He is giving entire nations to many that have cried out for their nations and for their cities and for their families. In this hour, Nations shall be born to the Kingdom in a day! I also hear the Father say that we are standing at the cusp of a massive move of His Spirit across the globe and the realm of the miraculous has been activated. Signs and wonders and creative miracles shall be released! He is responding to the cry from the nations for His mercy. Many have said "yes! God, I will go in the capacity that you have sent me; to my family, to my city, to my nation, to the nations of the earth!" I hear the Father say that He shall fund your yes! He shall give to you multiple streams of resources as you step out in this new season of seeing the answers to your prayers for your family, your cities, your nations, and the nations of the earth.
A Rainstorm of Blessings!
As you move into your new season, I declare Isaiah 34:26, "I will bless my people and their homes, I will send down showers in the proper time, there shall be a rainstorm of blessing"; as you ask the Father, may He exceed your expectations in Jesus' name; may God give you so much more than you expected in Jesus' name. I activate a release of a deluge, a tsunami, a tidal wave, a flood, a rapid release, a rainstorm of blessings to you in Jesus' mighty name!
See Also

Latest e-Book!
Recently, The Lord gave me a dynamic, destiny altering, open eyed vision where He downloaded to me 21 declarations as a weapon to unlocking your MEGA BREAKTHROUGH. Click here to access these declarations. The Official release day is September 3rd, 2020, but you can go ahead and get your copy right away and begin to possess your long-awaited promises! As you read these declarations out loud, I prophesy that your MEGA BREAKTHROUGH shall be unlocked and released in Jesus' name!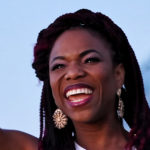 Agnes Ebedi
Agnes Ebedi is a woman of God with a strong prophetic anointing. Her vision is to see people across the globe encounter the person, presence and power of God.