A few Nights ago, while worshipping, the Glory of God filled my room and suddenly, I had a vivid vision of a stairway leading upwards. I heard the Spirit of God say that August is your Month of Elevation, Expedited Miracles and Extraordinary Testimonies!
In the last few months, the agenda of the enemy had been to scatter and to bring stagnation but I hear the Spirit of God releasing Zechariah 1:17 as we move into the eight month, "Proclaim Further, This is what the Lord of Armies says: I promise that my cities shall be prosperous again." I heard Him say that in the same way that He visited Jacob in Genesis 28 in a dream, at the dawn of his season of massive increase and expansion; he saw a stairway leading up to Heaven and he saw the Father standing to declare a blessing to Him that positively altered the course of His destiny, I hear the Father declaring that in the eight month, greater levels of His goodness shall be released as greater measures of His Glory shall be revealed. I see a vision of storehouses in Heaven bursting open in Heaven and these golden packages being released on the earth. They are representative of the arrival of financial blessings. I declare that where there has been scarcity there shall now be surplus and where there has been stagnation there shall now be overflow in the name of Jesus!
The Gates shall Break Open in the Eighth Month!
I declare in Jesus' name that as you step into the eight month, the month of new beginnings, new open doors, new opportunities, new divine encounters shall be your portion in Jesus name. Psalms 66:12 "We went through fire and through water but you have brought us out into our wealthy place." I declare that in the eight month, you are coming out into your wealthy place in Jesus name!
One Week to go, get in now!
In less than 1 week, we begin our free 3-Day Breakthrough Challenge! We would love to specially invite you to join us. We have some gifts for all our breakthrough participants. We will be gathering online August 6th to 8th at 7pm EST to see your Breakthrough be released suddenly!
Here is the Link:
https://www.facebook.com/groups/971669233267384/
Please take a second to share this article using any of the social media links, you can bring a smile to someone's day! Help spread His smile…!
See you there!
– Agnes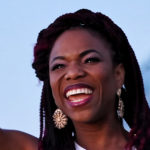 Agnes Ebedi
Agnes Ebedi is a woman of God with a strong prophetic anointing. Her vision is to see people across the globe encounter the person, presence and power of God.