During my prayer time, I was suddenly taken into a vision. In this vision, I saw a vibrant tidal wave crashing into the shore and immediately, I heard the Spirit of God say that like a forceful tidal wave, there is a crashing in of mega, manifold, multiplied favor coming upon your life. This new level of favor will unlock your sudden, speedy answers to prayers. This new weight of Favor will cause barriers that had hedged you in from entering the biggest and best days of your life to be shattered. You are being clothed in a new level of Favor!
I hear the Spirit of God say that there is an Esther and Joseph generation arising. Esther's people were facing a situation that could have potentially cost them their lives but God raised up Esther "for such a time as this" Esther 4:14. She began to seek God with a greater intensity than ever before and as she sought the Lord, she and all her people were saved. I hear the Spirit of God say that a new sound is being released across the globe from those who had committed to God in desperately seeking him in the secret place. They are going to carry the answer for the hour to see life and the force of the blessing be released in their lives and across the globe. The tide is changing, and the turnaround moment is here. God's people are breaking out of the prison of pain into the palace, the place of promise in Jesus name.
"I hear the Spirit of God say that there is an Esther and Joseph generation arising." – @AgnesEbedi
Click to Tweet
This is your Crossover Season!
I prophesy that this week, you shall have sudden turnaround testimonies. Circumstances that had seemed impossible shall now bow the knee as you call out to the name of Jesus. Excellent Health shall be your portion in Jesus name. A new level of wealth shall be unlocked to you and most importantly, may you encounter God deeply, this week, in Jesus mighty name!
Exciting Announcement!
Join us for our free 3-Day Breakthrough Challenge. We have some gifts for all our breakthrough participants. We will be gathering online August 6th to 8th at 7pm EST to see your Breakthrough be released suddenly!
Here is the Link:
https://www.facebook.com/groups/971669233267384/
See Also

See you there!
Blessings,
Agnes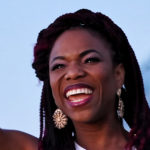 Agnes Ebedi
Agnes Ebedi is a woman of God with a strong prophetic anointing. Her vision is to see people across the globe encounter the person, presence and power of God.